A warm welcome from all at the Unicorn Inn
The Unicorn Inn is a free house pub and restaurant, brimming with rural charm and located in the beautiful unspoilt village of Heyshott near Midhurst, West Sussex.
Since its original licence was granted in 1839, many publicans have left their individual touch on the Unicorn.
A long and fruitful history has helped the Unicorn transpire into the perfect venue where you can enjoy a pint in the bar with the locals, tuck into a good hearty meal from the excellent restaurant menu or sip a leisurely drink with the family in a beer garden that offers some of the finest views of the surrounding landscape.
Today, the Unicorn is run by landlady Jenni Halpin.
Starters
Soup of the Day
£5.50
Twice-Baked Soufflé of the Day
Starter Size £7
Main Size with New Potatoes & Salad £13
Bavarian Anti-Pasti
£7.50
Black Pudding & Gorgonzola Stack
£7.50
Whitebait with Dill Mayonnaise
£7.25
Prawn & Avocado Salad
Served in Marie Rose
£7.50
News & Info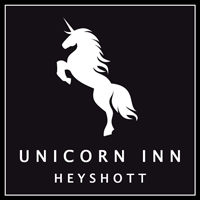 ~~~~~~~~~~
Regular Real Ales
Plus 2 Guest Ales
~~~~~~~~~~
Events at the Unicorn
~~~~~~~~~~~~~~
Christmas Party 2017 Menu
[Learn More...]
Christmas Day 2017 Menu
[Learn More...]
Unicorn Events - learn more...
Mains
Beer Battered Cod & Chips
Served with Peas
£13
Baked Skate Wing with Mushroom & Parmesan Gratin
Served on Roasted Sweet Potato & Samphire
£14.50
Grey Mullet on Samphire & Rice
Served with Chickpea & Coconut Curry Sauce
£15
Sirloin Steak with Choice of Sauce
(Peppercorn, Stilton or Garlic Butter)
Served with Tomato, Onions, Mushrooms & Chips
£21
Steak, Mushroom & Guinness Pie
Served with New Potatoes & Vegetables
£15
Cajun stuffed Pork Leg
Served with Green Tomato Chutney Sauce & Mash
£13.50
Whole Roast Partridge with Game Gravy*
Served on a Crouton & Black Pudding
£16 *Takes minimum 15 minutes to cook.
Goat's Cheese & Beetroot Penne Pasta
£13
The location of the Unicorn lends much to its appeal. There are a variety of local attractions close by including Heyshott Down Nature Reserve, Cowdray Park Polo Club, Petworth House and Deer Park, Goodwood Race Course and the historic city of Chichester.
Alternatively, there are many local walks to choose from, with Heyshott being just a stone's throw from the South Downs Way. Whether you are on your way back from a morning ramble or you are stopping off for a pub lunch before a spot of sightseeing, the Unicorn is ideal.
Jenni and Sally would like you to think of the Unicorn Inn as a home from home and are looking forward to your visit.