Wine
House White Wine Selection
(Available by the glass)
Sauvignon Blanc – Chile – Bottle £16.60
Chardonnay – Australia – Bottle £16.60
Pinot Grigio – Italy – Bottle £20.15
White Wines
Mischief Maker Chenin Blanc – South Africa Bottle £18.60
Loaded with up-front tropical fruit, the nose delights with reminders of guava, mango and melon. Te palate follows through with full fruit flavours, balanced by a crisp acidity to ensure a fresh and fruity style. Enjoyable at any occasion.
Los Coches Viognier – Chile Bottle £22.05
Classic Viognier character of apricots, peaches, hints of pears and blossom. Full on the palate but with lively citrusy character which keeps it from being too much.
Pontemagno Verdicchio Dei Castelli Di Jesi Classico DOC – Italy Bottle £23.05
From the hills behind Ancona on the Adriatic this is a refreshing dry white that is crisp but has richness and character that liſts it above the competition.
Domaine Racine Picpoul de Pinet – France Bottle £26.05
Here is a bright, vivacious Languedoc white with zesty fruitiness, light body and lively acidity. Tis wine's clean, zippy style lends itself perfectly to shellfish and salads, but it is equally pleasurable served on its own.
Macon Villages Terres Secrets- France Bottle £30.60
Clear & Bright Wine with aromas of white flowers, citrus and yellow fruit, with rounded mouth and sweetness
House Red Wine Selection
(Available by the glass)
Merlot – France – Bottle £16.60
Shiraz – Australia – Bottle £16.60
Rioja – Spain – Bottle £20.15
Red Wines
Los Coches Pinot Noir – Chile Bottle £22.05
Te ripe red fruit qualities of this versatile red are perfect with a wide range of dishes including poached salmon, roast chicken, pork chops and pasta dishes.
Las Pampas Malbec – Mendoza, Argentina Bottle £23.05
A rich, full red with lovely damson and plum fruits. Soſt tannins with a subtle hint of underlying oak complete this great medium bodied wine.
Montepulciano D'Abruzzo DOC, Taverna Nova – Italy Bottle £24.05
Scents of ripe blackberry, wild berries and cherry. Good body, fine tannins and a smooth finish.
Chateau Tour Bel Air Montagne Saint Emilion – France Bottle £30.60
A hint of oak, the smoothness of the merlot, the elegance of the cabernets – Château Tour Bel Air is a perfectly balanced, classic right-bank wine.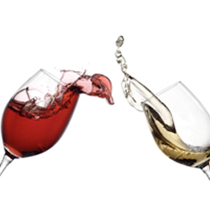 Rosé Wine
(Available by the glass)
Borrego Springs White Zinfandel – California – Bottle £16.60
Pinot Grigio Blush – Italy – Bottle £16.60
Sparkling & Champagne
Di Maria Prosecco Minis (white or pink) – Italy 20cl Bottle £6.60
Prosecco – Italy Bottle £26.10
Champagne Baron De Beaupre Brut NV Bottle £38.10